Can you email me the spreadsheet for the second bulk import you did? services at wildme dot org.
sent - related to that import, the upload didn't accept the Encounter.submitter0.fullName - do you know why that would be?
Thanks for sending that! According to the Bulk Import doc in the Fields available section, Encounter.submitter0.fullName doesn't save unless submitter0.emailAddress is also reported.
I'm not seeing anything odd in your spreadsheet, so I'm going to report this as a bug to our devs. I don't have an ETA for a fix at this time, but when we have one, I'll share it here.
Oh, and for general advice on merging individuals, we have different instructions for that depending on which page you're accessing.
You don't have to do that for this bug report, though. We need to be able to see those duplicates for now in order to troubleshoot.
hi @Anastasia - just wondering if you have any updates on timelines for fixing this bug?
No, not at this time, unfortunately. This shouldn't prevent you from working on your encounters.
Hi Anastasia, the next step I was hoping to do is a formal quantification of how well the matching works for our population, and that wouldn't be a proper evaluation if there are duplicates of individuals. So, unfortunately, I will be holding off on further processing until this is resolved. Alternatively, if you think it will be some time I could manually resolve the matches, but as you mention this may not be ideal if those duplicates are needed for troubleshooting.
I understand. I'll follow up as soon as I have more info on next steps.
Good morning! I need to get more information from you so we can try and reproduce the duplicate individual page issue:
What operating system were you using? (eg. MacOS 10.15.3)
What web browser were you using? (eg. Chrome 79)
I'm using Windows 10 Enterprise (version 21H2) and Chrome version 109.0.5414.210
I wasn't able to replicate this in my end when testing across multiple imports. Can you email me your spreadsheet from your other import to review (services@wildme.org)? I still have a copy of Flukebook_MetadataImport_initialDataset_Batch2 to compare with.
Sent - let me know if you have any other questions
I'm not seeing anything in the spreadsheet that might be contributing to it (such as if some IDs had a trailing space and other's didn't) but everything looks fine. I'm combining this with a similar bug report for African Carnivore Wildbook.
Since this bug isn't likely to be fixed quickly, I'm going to recommend that you leave a single pair of duplicate individuals and you can manually resolve the remaining duplicate matches so that you can continue with your research. This way, there's something for our devs to work from without leaving you stuck in your progress.
Hi Anastasia, I took a look to try to merge those duplicated individuals and was trying to do so following the 'Merging individuals from the Individual Overview page' instructions, but I don't see 'the 3-dot menu on the top right corner of the Individual's page'. Do you know if this method is possible in Flukebook, and if so, how I do it? Thanks in advance!
That's my fault; these instructions apparently are only relevant for Seal and Zebra Codex. I talked to Jason about this issue last week and it's actually more widespread than we had anticipated as it's affecting records in African Carnivore Wildbook, too. I hope to have an update on this one soon!
Thanks for the update. So to clarify, does that mean there isn't a easy way to merge individuals manually within Flukebook in the meantime?
The short answer is in general, yes, but not for this specific issue.
I've only found this information about merging in Wildbooks from our docs:
I've discovered that two individuals in the system are the same animal. How do I merge them?

Move all encounters from one individual to the other. When the individual you don't want to keep has no encounters associated with it anymore, it will automatically be removed from the system.
This is done from the Identity section on the Encounter page. When you edit it, there's a Manage Identity section that lets you remove the individual it's currently assigned to.

When you click on the Remove button, the section's appearance changes and lets you change it to an existing individual.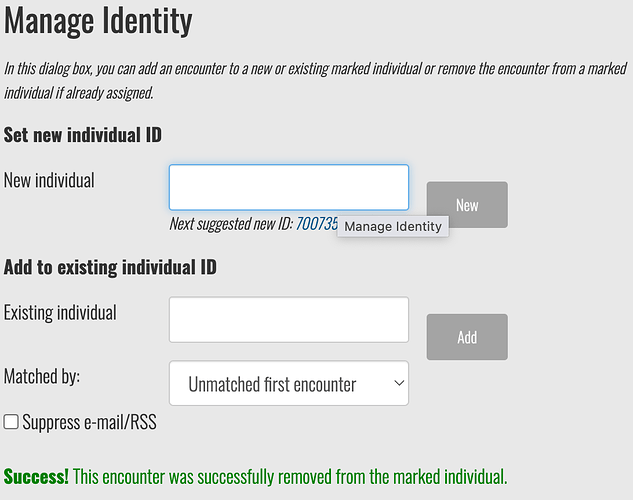 However, given the issue with the duplicate marked individual names, I'm not confident this approach is helpful as it will show you both names in the menu and doesn't allow you to open them in a new window to verify which is which.


I'll let you know as soon as I have an update on this.
Thanks for the details Anastasia - but yes, that would be my concern as well, that it would be a finicky trial and error to try get all encounters moved over to the same individual. It would be quite tedious also, given that there are 20 or more encounters for the duplicate ID for several individuals. Do keep me posted on any updates/solutions
Hi @CMKonrad & @Anastasia - we are running into the same issue in ACW so when I saw your exchange around merging, I decided it was time to post a feature request to address this gap in the Merge Individuals functionality. Here's a link to that feature request:
cheers
Maureen

Pardon the multiple posts, but I want to make sure all of the relevant threads get updated with this info:
I recently learned we can force a merge between individuals. I've added instructions on how to do it in our new Merge FAQ.