In which Wildbook did the issue occur?
Whiskerbook
What operating system were you using? (eg. MacOS 10.15.3)
Windows 10
What web browser were you using? (eg. Chrome 79)
Latest Chrome
What is your role on the site? (admin, researcher, etc)
Orgadmin
What happened?
Hi


First of all, I would like to point out that I am working on the English version and not in French.
The list of viewpoints proposed when making an "add annotation" now contains French terms in addition to English terms, which nevertheless correspond to the same thing (example: "droite" and "right"). I don't know how the software will understand this if someone chooses "droite" and someone else chooses "right" :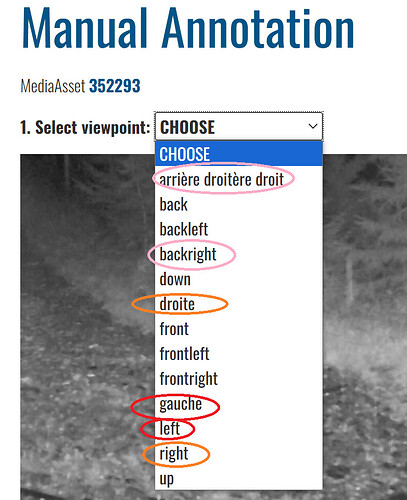 This is a recent problem because before that there were only words in English.
What did you expect to happen?
To see only the words in english.
What are some steps we could take to reproduce the issue?
Try to add an annnotation and look at the viewpoint list.
Thanks for your help !!