In which Wildbook did the issue occur? Flukebook
What operating system were you using? (eg. MacOS 10.15.3) Windows 10
What web browser were you using? (eg. Chrome 79) Chome
What is your role on the site? (admin, researcher, etc) Unsure.
What happened? When I uploaded 1000 photos via the bulk import the confirmation screen listed 1045 photos being uploaded, with the additional files having names I don't recognize (e.g. DSC_4910.JPG). Additionally, the files are shaded in yellow instead of green which I believe based on the bulk upload training video suggests an issue occurred, but I don't know how to tell what the issue is.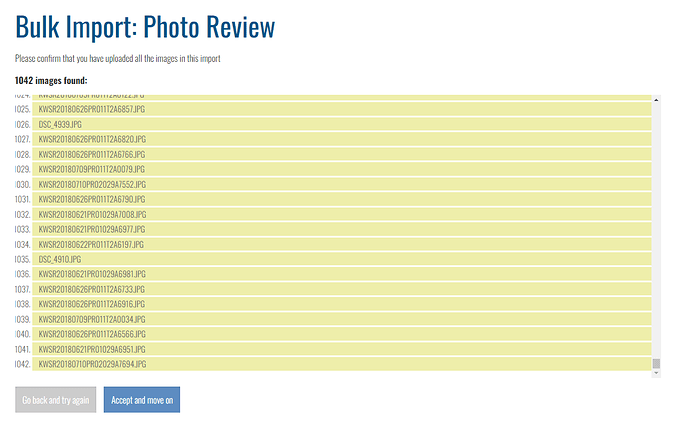 What did you expect to happen? 1000 files to be uploaded and shaded in green.


What are some steps we could take to reproduce the issue? Unsure.
If this is a bulk import report, send the spreadsheet to services@wildme.org with the email subject line matching your bug report — I didn't get as far as uploading the spreasheet yet and clicked 'go back and try again'