In which Wildbook did the issue occur?
Amphibian and Reptile Wildbook
What operating system were you using? (eg. MacOS 10.15.3)
Windows 11 and 10
What web browser were you using? (eg. Chrome 79)
Edge
What is your role on the site? (admin, researcher, etc)
Admin
What happened?
I uploaded the recent encounters with a bulk import, send them to detection and identification then wanted to match them but with nearly every encounter I get the information: "Image Analysis has returned and no match was found." The pictures have the same or even a better quality than the ones from last year, when I had no problems at all finding possible matches. We definitely have pictures of firesalamanders we found before so it is impossibel, that there is actually no match.
What did you expect to happen?
I expect to get suggested at least 7, better 12 possible matches.
What are some steps we could take to reproduce the issue?
When I click directly on "salamander_fire_adult" or start matching out of a project, there are no suggested matches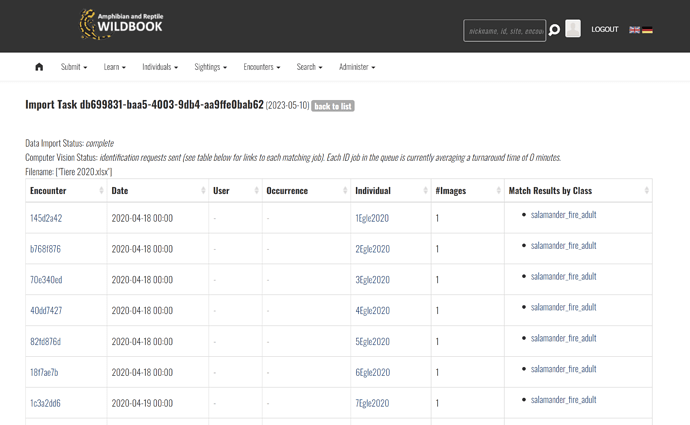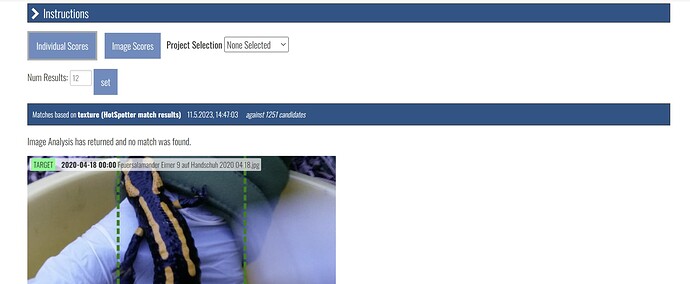 Thank you for your help!
Greetings from Germany
Karolin