Hi again, another location to pretty please! >WA-Perth-Marmion Beach
many thanks, Nerida
I moved this to its own thread so I can track it more easily.
I should have this updated today. I'll post here when it's live.
awesome, thank you very much! Hey do you know why these community forum emails go to my nerida.wilson@museum.wa.gov.au email address? My wildbook account address is ngwilson@ucsd.edu…I couldn't see how to change it here on the forum. thanks
Community accounts are set up separately from your Wildbook account. You may have created your forum account with the museum address, instead.
You'll want to click on your user icon in the top right of the page, then click on the person icon, then Preferences, as marked below: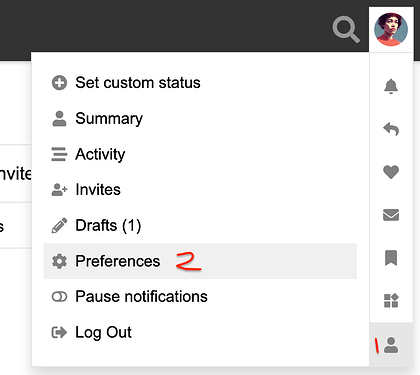 You'll be taken to your profile page. Click on the the wrench icon next to your email address and select the Change Email button. Once you've updated your email address, click the "change" button to save your changes.


Great, thank you, not sure why I couldnt find that the other day!!!