In which Wildbook did the issue occur? SAS USA
What operating system were you using? (eg. MacOS 10.15.3) unknown
What web browser were you using? (eg. Chrome 79) unknown
What is your role on the site? (admin, researcher, etc) admin
What happened?
I got the following email (and confirmed by going on the webpage this morning) from a fellow aquarium staff that was uploading images to SASUSA:
Hi Carol,
I was going to continue with uploading 2021 Proteus images today and found a new issue with the website. The drop-down menu for shipwreck locations has been shortened… it no longer includes wreck sites past the letter "n" for some reason (such as the Proteus, USS Tarpon, U-352, etc).
Attached is a screen shot.
Shawn Harper
Diving Safety Officer
North Carolina Aquarium on Roanoke Island
NC Department of Natural and Cultural Resources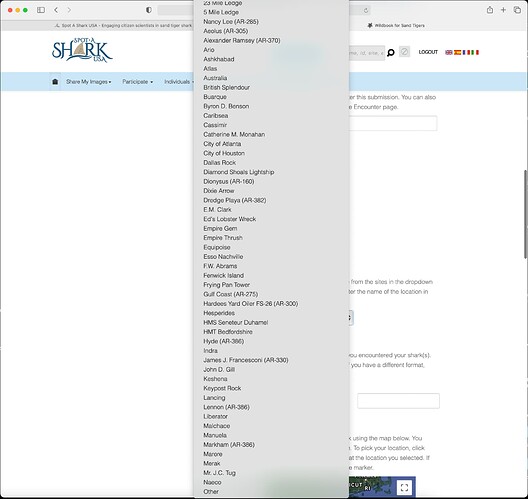 What did you expect to happen?
What are some steps we could take to reproduce the issue?
If this is a bulk import report, send the spreadsheet to services@wildme.org with the email subject line matching your bug report