What Wildbook are you working in?
Manta Matcher
What is the entire URL out of the browser, exactly where the error occurred?
Can you describe what the issue is you're experiencing?
I am trying to name a manta for adoption, but I cannot submit the form as it says I don't have access to do that. But one of my role on MantaMatcher is 'adoption'
My roles on MM:
MM:manager
MM:researcher
MM:reviewer
MM:local
MM:imageProcessor
MM:approve
MM:identifier
MM:adoption
MM:Indonesia
MM:Indonesia-Komodo
MM:Indonesia-Nusa Penida
MM:Indonesia-Raja Ampat
MM:Indonesia-Sangalaki
Can you provide steps on how to reproduce what you're experiencing?
Make the adoption live on Manta Mather by following the link: MantaMatcher.
If this is a bulk import report, send the spreadsheet to services@wildme.org with the email subject line matching your bug report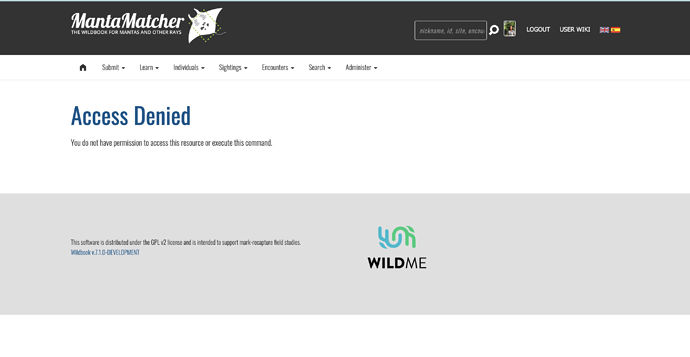 Thanks!