Hello all,
I'm working on thousands of 2021 OPC Census photos, whereby they only have a date taken, one local name which is "Olpejeta East" minus all other data. Yesterday, I uploaded a sighting of 50 photos to start with, did all the steps successfully, but got an error message (below image) while I clicked on identification "image identification failed" (I deleted the sighting later though and I don't have a link either)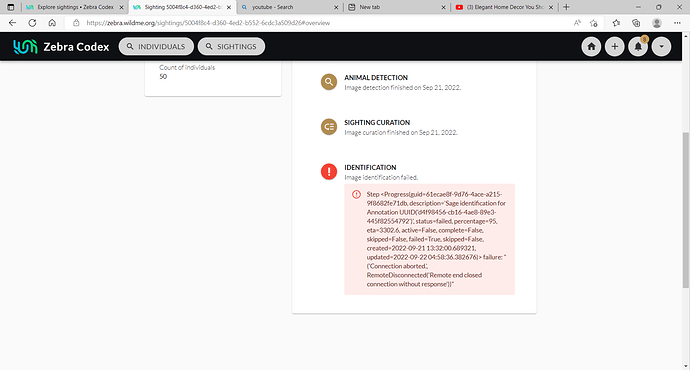 I tried working with fewer individuals, uploaded 10 photos, followed all the steps, recorded the date of sighting only since we don't record any other data while doing our census. This too didn't work; I got the error below after clicking "report sighting" Sighting 97fc0456-e608-4f61-a427-4c1ede002f5e • Zebra Codex (wildme.org)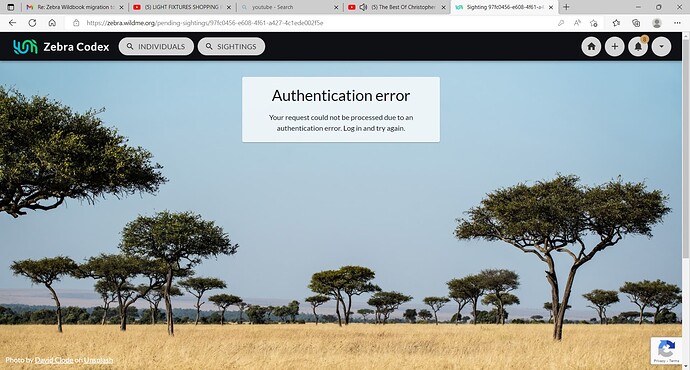 So, my question is, is there a successful way of uploading bulk photos that don't have coordinates, behaviour, measurement and labelled keywords data apart from date? "Bulk import" would have been my option, but my photos don't have any metadata to key in in excel sheet which is required. Second, while reporting a sighting, is there a limit on how many photos to upload?
Third, since each individual photo carries its own coordinate in their properties (we take photos with GPS-enabled cameras) can Zebra Codex perhaps be able to extract these coordinates for exact location purpose?
Kindly help.