What Wildbook are you working in? ACW
What is the entire URL out of the browser, exactly where the error occurred?
Can you describe what the issue is you're experiencing?
After uploading all related images at once, a user uploaded 3 bulk import excel files in a row:
DP102_DP176_upload_file1_final.xlsx
DP102_DP176_upload_file2_final.xlsx
DP102_DP176_upload_file3_final.xlsx
After uploading the first excel file, I logged in as admin and selected it from the bulk import list and clicked to "send to identification".
After she uploaded the next file: "[…]file2_final.xlsx" file, I went back to my bulk import logs and looked for it to run it through identification. I realized I couldn't see the first import in the log anymore. I started to wonder if we'd mistaken having uploaded and run IA on that batch but I found it in another tab I still had open: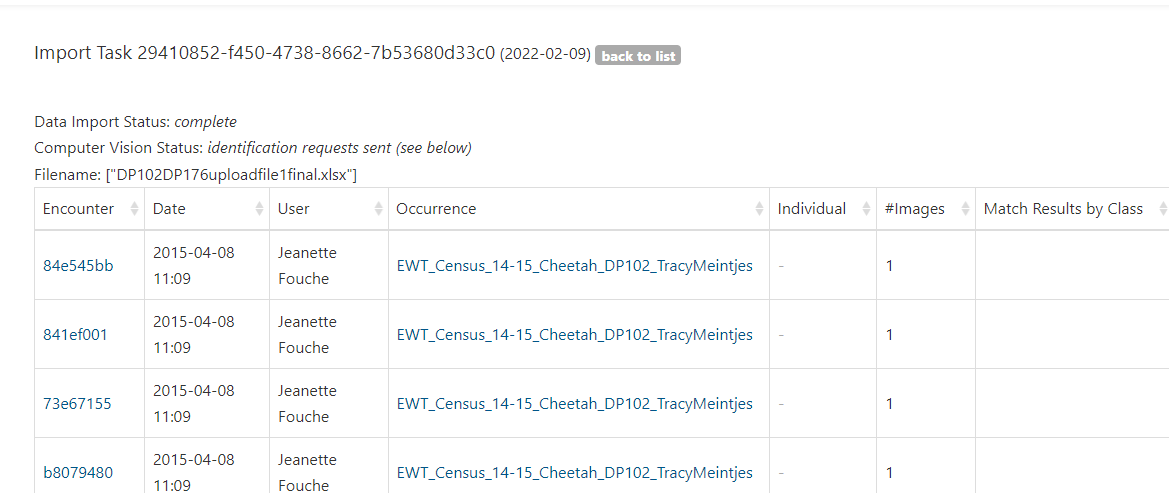 And a search for that first sighting shows it's in the system. But it's not showing up in the bulk import logs:


It's just not showing up in the user's bulk import logs either:


Can anyone tell me why this is happening? Can we get it to display in the user's bulk import logs?
If this is a bulk import report, send the spreadsheet to services@wildme.org with the email subject line matching your bug report
Done
Thanks!
Maureen