What Wildbook are you working in? ACW
What is the entire URL out of the browser, exactly where the error occurred?
Upload validation screen - after spreadsheet upload & before "submit" batch
Can you describe what the issue is you're experiencing?
A user was trying to process a bulk import and isn't seeing anything on the upload validation screen other than the instructions/legend at the top of the page: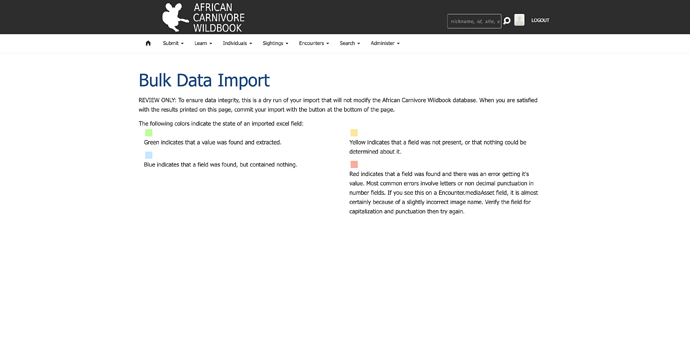 He uploaded a folder of images and then selected the .xlsx file and clicked "begin upload". He got the screen as shown in screenshot above but nothing else showed after ~10mins. We were screensharing at the time so I saw what he was seeing. He tried to upload the file again and got the same result.
This happened between around 9am PT to 9:45am PT today.
I'll send the import spreadsheet to your email.
thanks!
Maureen