What Wildbook are you working in? ACW
What is the entire URL out of the browser, exactly where the error occurred?
https://africancarnivore.wildbook.org/individuals.jsp?id=4c03126c-ab6e-42bc-ac3f-da0af018916e
Can you describe what the issue is you're experiencing?
I tried to enter just the year for the date of death on this Marked Individual page but when I did, I got this error message: " Error: I was unable to set the individual's time of death. I cannot find the individual that you intended it for in the database, or the time was not specified."
I got the same error when I tried to enter the year and month. I can't specify a day as this is almost never known with any of our species, and time of death is definitely always unknown.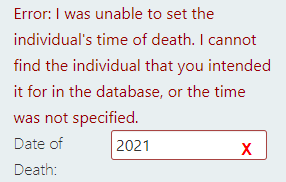 Is the time of death actually needed or is this just letting me know that more date info is needed, like month and day?
Thanks
Maureen