Hi, I'm using flukebook.
How can I delete wrong photos (or all photos) were uploaded during Bulk Import process?
Hi @bioecolinks
You can delete your bulk import from the bulk import page. Scroll to the bottom and you'll see a red Delete ImportTask button.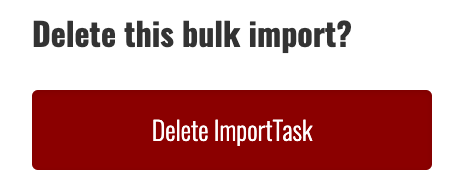 If you only want to delete an encounter, but not the entire import, click the Edit button in the Metadata section and you'll see a red Delete Encounter? button at the bottom of the section.


I login to my profile at flukebook.org, open My Data, then View my Bulk Imports. And there are only two buttons Filter and Clear. Without Delete ImportTask