Hello all,
I'm currently having trouble importing file names from the Encounter.mediaAsset column.
The files upload during the "photo upload" portion of the bulk import just fine, although they have special characters.
Their original names that I put onto the spreadsheet (and used during "photo upload") were:
_-00_00_02_00-_8_ID0_box11.jpg
_-00_00_18_750-_75_ID9_box92.jpg
_-00_00_04_00-_16_ID4_box23.jpg
They seem to have uploaded fine:


However, I ended up with this for the spreadsheet portion: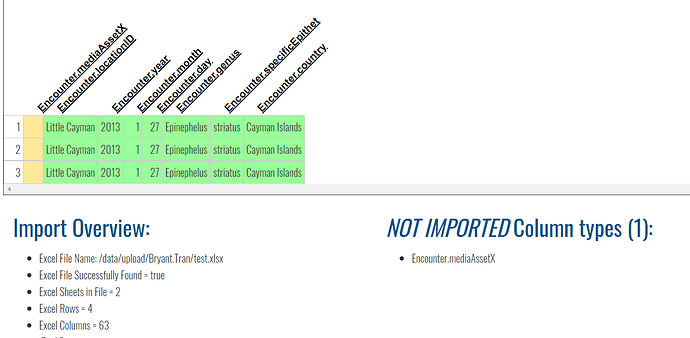 File names could not be imported.
Thinking special characters were an issue, I changed the file names in the spreadsheet to have no special characters.
I ended up with these file names on the spreadsheet(same as above but without the special characters):
000002008ID0box11.jpg
00001875075ID9box92.jpg
0000040016ID4box23.jpg
I still have the same issue of file names not being imported.
Is this an issue with how I labeled the Encounter.mediaAssetX column? Do the file names have to have special characters removed before they are uploaded into the "photo upload" portion of the bulk import? How would I go about fixing this?
Thanks,
Bryant