Hi Anastasia! I think I may be experiencing a similar problem with identifying hawksbills. Has this been updated/resolved?
Hi @vinpturtles!
I moved this to its own topic because the issue in the previous topic was that Loggerheads didn't an algorithm in place yet so visual match was being used instead. Hawksbills do, so you'll want to make sure you're starting your match using the "match results" option from the image menu instead of "visual matcher".
If you're still having issues with matching, post the link to your Encounter so I can take a look at what's going on.
Here is the link to the encounter I just uploaded a duplicate of, but it has not matched yet. Is this the correct way to upload them or am I still missing a step?
Internet of Turtles (wildbook.org)
The assigned ID to the original turtle already in the database should be USV0016. I uploaded the exact same left cheek photo that I originally uploaded, but gave it an observation date of today so I could test it.
Thanks for the link!
I found your original encounter of USV0016 and compared it with the one you linked above. The images you see as match candidates are determined by the species, the viewpoint, and the location set on the encounters. Your original encounter has the location description set as "Maho Bay" and your newer encounter has the location description set as "Maho". Because they're not entered exactly the same, IoT is treating them as two unique locations.
You can still manually assign your new encounter to USV0016 by clicking the edit button next to the Identity section and entering its name in the Add to existing individual ID section.
Additionally, you're likely to get more match results if you select one of our existing location IDs from the dropdown menu when you submit a new encounter: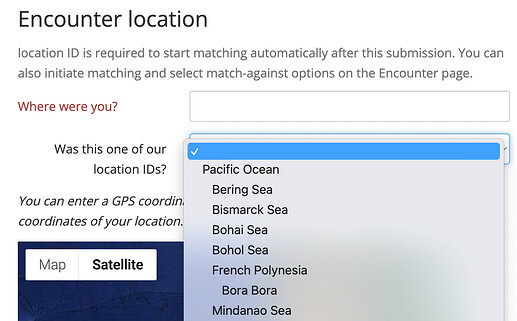 In this instance, it looks like Atlantic Ocean > US - Virgin Islands is the location ID that best corresponds to Maho Bay, so you'll want to edit the Location section of your encounter and set it as your Location ID on both of the encounters.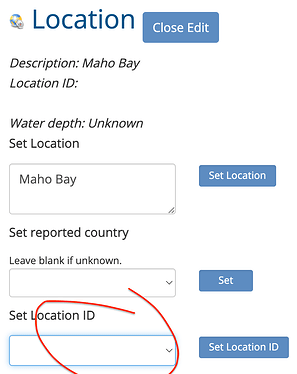 Then you'll want to go back to your image menu on the encounter and select the "start another match" option and make sure the updated location ID is selected.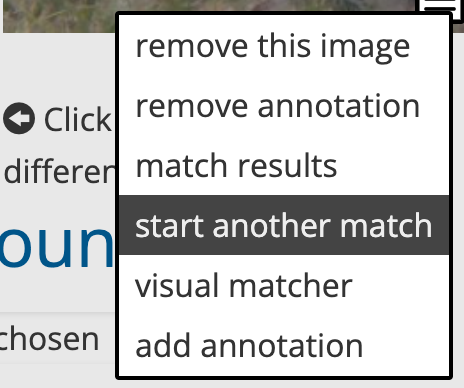 Let me know if you still have trouble with your matches after this. If you have additional questions, I'm hosting an office hour phone call next week so we can talk through it in real-time.
Thank you! I will try and edit the encounters so they match, and see if this fixes the issue. When will you be having an ofice hour?
Tomorrow at 10am Pacific. I'll send you the invitation.
Thanks for joining office hours today @vinpturtles!
I spoke with my teammates and learned that WBIA checks for identical images from the same user and excludes them from the set of potential match candidates. Remember how I mentioned that it can recognize pixel-for-pixel that it's seen an image before? Apparently, this is one of the use cases it uses that feature for.
But we can still work around that for your testing. If you can edit your image for the new test encounter by cropping, resizing, rotating, or any other small change that makes it different than the original. Then when you re-upload it, it will no longer be recognized by WBIA as an image it's seen before and should result in your two encounters appearing in each other's match results.
I just rotated and cropped one of the photos from this same turtle and tried to upload it as a new encounter. The link is here Internet of Turtles (wildbook.org)
It still looks like it is only matching with itself? I will try and crop another photo and see if it changes anything.
It looks to be working correctly to me. You can see in the blue bar above the results that it checked for matches against 3 candidates in your selected location ID.
The new, rotated version you entered is now displaying the original, unrotated version of USV0016 from the original encounter in your first set of match results.
Then your second set of matches shows 2 match candidates. One from a previous test upload and the second from the Encounter already identified as USV0016.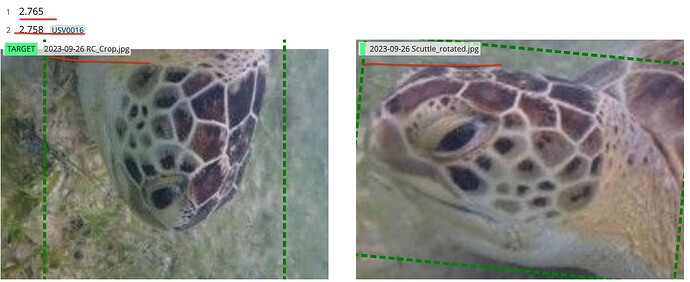 If you hover your cursor in the space next to the match scores, the row should highlight in green. Clicking in that green blank space will take you to the Encounter page the match candidate came from.