@Anastasia @jwaite
What Wildbook are you working in
Flukebook
We imported 2019 historical data with IDs of various sightings (these were missing data that hadn't been previously uploaded but are cropped and rotated and ID'd).
Unfortunately, it doesn't appear that the IDs got merged with the existing ID # that already resided on the server.
See image,
In particular, it looks like #50, has 3 different entries as "Individual", the one with 36 encounters is the one that we just imported. the individual #50 with 6 encounters are 2017-2018 dates from our historical catalog and part of the training data set. #50 with 8 encounters are from a sighting I have pulled in recently but haven't 'committed' individuals yet.
IS this all because we haven't "committed" the data yet? And how do we do that from this bulk import?
do we have to commit each individual image? ugh, there over 3k in this recent bulk import.
Oh, and to boot, we see some dates did not get filled in on our 3k images, so I need to reimport the xls.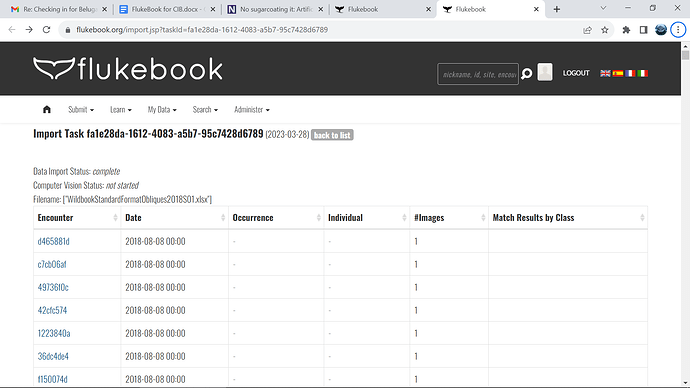 Can you describe what the issue is you're experiencing?
Can you provide steps on how to reproduce what you're experiencing?
If this is a bulk import report, send the spreadsheet to services@wildme.org with the email subject line matching your bug report