In which Wildbook did the issue occur? Flukebook
What operating system were you using? (eg. MacOS 10.15.3) Windows 10 Enterprise
What web browser were you using? (eg. Chrome 79) Chrome Version 110.0.5481.78
What is your role on the site? (admin, researcher, etc) I believe OrgAdmin and Researcher
What happened? Error when trying to view match results with all algorithms run.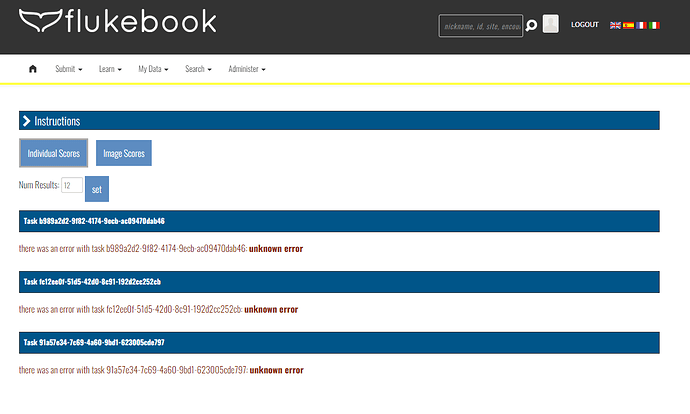 Other encounters are showing results for PIE only.
What did you expect to happen? Match results to be displayed (for all algorithms).
What are some steps we could take to reproduce the issue? Try viewing match results for this encounter. For many match results I have checked for several of my encounters, I am receiving this error. In cases where only PIE was run I am seeing match results correctly. However, I had intended to run all algorithms on all photos, so I also do not know why in some cases only PIE is showing. I know that Flukebook had to restart my matching due to a backlog at some point last month or so - I'm wondering if for that rerun, only PIE was used? If I want to be able to match against these photos using all algorithms when I upload additional photos will that be possible in cases when so far only PIE was run?