In which Wildbook did the issue occur?
Manta Matcher
What operating system were you using? (eg. MacOS 10.15.3)
Unknown (this was reported to me by someone else)
What web browser were you using? (eg. Chrome 79)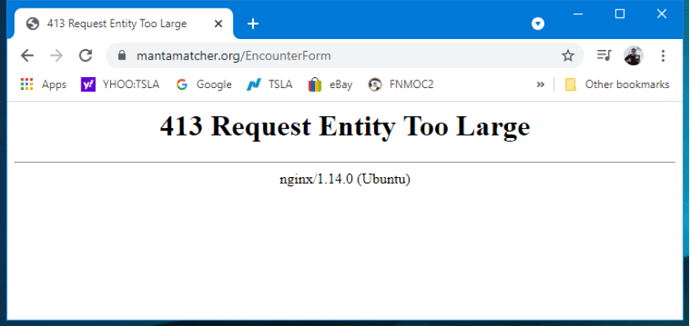 What is your role on the site? (admin, researcher, etc)
I'm admin, but this happened to a public submitter
What happened?
They received an error (see screenshot above) saying 413 request entity too large when they tried to upload a new manta encounter. They assumed this had to do with their photo sizes. I've asked them for more information about file types and sizes, and will update when I hear back.
What did you expect to happen?
The manta encounter to be submitted.
What are some steps we could take to reproduce the issue?
Try uploading a test encounter
If this is a bulk import report, send the spreadsheet to services@wildme.org with the email subject line matching your bug report