What Wildbook are you working in? ACW
What is the entire URL out of the browser, exactly where the error occurred?Wildbook for Carnivores | Login
Can you describe what the issue is you're experiencing?
A user has uploaded a batch of serval data to ACW and, while it completed detection, it appears to be stuck in the Identification process for 2+ days. I've sent the bulk import file to the services@ email address.
When I opened a few of the encounter records, I noticed that the zebra dropdown menu on the image in each gallery shows that the image is not able to be sent to matching, per this example: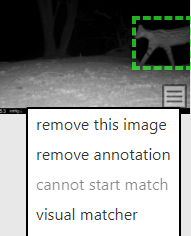 Thanks for your assistance with this.
Maureen