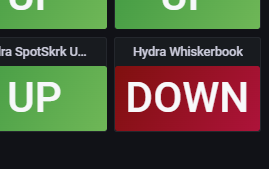 According to the Grafana dashboard, Whiskerbook's IA server is down. Please restart.
thanks
Maureen
Hi folks, any chance we can get this server up quickly??
Thanks
Are you still seeing issues in Whiskerbook? It looks like it's back up on the dashboard and the WB site is loading for me.
Hi, I see that it's up but a user I was on a call with this morning had sent his bulk import to detection before we realized that the server was down. There's been no progress since so I'm wondering if you could re-send it through detection, please?
Thanks!
Maureen
Thanks! I'll follow up once I get confirmation it's going through.
Whiskerbook WBIA has been restarted. We'll see if this gets the import moving again.
Just got confirmation that this import's status was related to the WBIA outage. Things are getting back up slowly but surely. This one should be ready for detection in about 15 mins.
Detection has kicked off on the import.
Thanks, that worked. I just realized I typed "done" in the subject instead of down. lol. Apparently, I'm still not 100%…
No worries; I just fixed the title for you.