Hi Tanya,
I hope you are well. We are currently working through uploading a lot of images to Wildbook via Bulk Import. The upload and detection were working really well for the first couple Bulk Imports, but there seems to be a glitch or we have started doing something wrong because now detection isn't working on any of our bulk imports. Is this just a result of a large number of uploads, or are we doing something wrong? For some of the imports detection has occurred but the matching isn't working and it just says "attempting to fetch results" or "still waiting for detection" even though the zebra is boxed, and for some detection still hasn't happened.
Imports without detection: 07ae2658, 09b4d263, dc5ebe99, b593804e, a92166d1, 5e09412f, ffb13660, eac66184, 3a148474
Imports with detection but matching isn't working: c0c9a9fd, e4645740, 6d4eb036, 28194bdd, 62b3bb0a, 7720f997
I also uploaded an import of 28 photos on 2/08 and I sent the import to identification instead of detection. Wildbook says that it is still running IA on the import. I am unable to delete the import on my end and I was wondering if you could delete it for me? The import ID is 4f86400c.
Also, we are having some issues with the submitter0.fullName and submitter0.affiliation. We have been including an email address and using '0' where the X appears in the column header documentation. Despite these efforts, the information for submitter0.fullName and submitter0.affiliation never go through. See screenshot below from a recent test import. This has been true of all our bulk imports so far.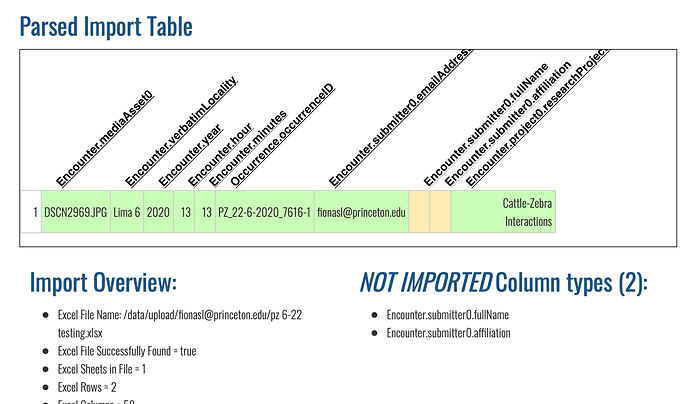 Additionally, where does Occurrence.groupComposition propagate to? I recently tried using it, and although the column made it through the import, I could not find the information I had inputted anywhere on either the sighting or encounter pages.
Thanks,
Maggie