Kindly check why am not able to edit metadata. Link below please
Hi @Rosemary
I made this a new topic since it's a new issue with edits not saving. I'm getting the same thing: If I update this zebra's sex to male, it won't let me save. I'll look into this and let you know what I find out.
I have tried to edit, and it was successful.
A different one now in searching individuals. Am trying to search individuals and am very sure they are in Wildbook and it gives me no results.
Kindly try on your side.
E.g 03_045, OJ22_117, 07_264…and many more.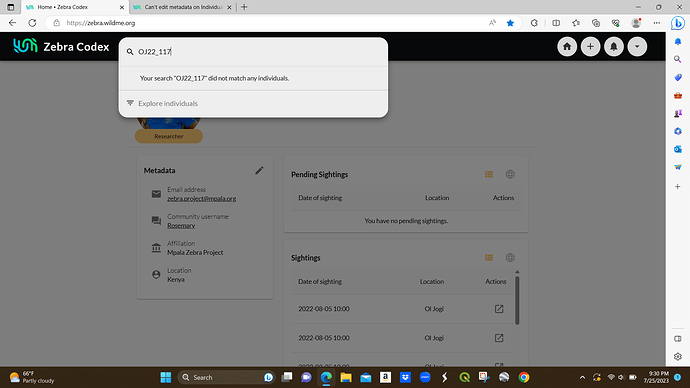 OJ_Is a short name for Ol Jogi
OP_Ol Pejeta
G_Genetics…and many more.
Some OJ22…are showing up and others not.
No individual from Ol Pejeta sightings is showing up
We're seeing the same thing in both Codexes. I'll update here when that ticket is complete.