What Wildbook are you working in?
Grouper Spotter
What is the entire URL out of the browser, exactly where the error occurred?
Can you describe what the issue is you're experiencing?
On an encounters where I have had to remove the annotation and create a new one and run a new match, it is unable to compete the matching.
Instead of finding a match or saying no match is found after about 15 minutes it just says "attempting to fetch results" but with no loading wheel or anything indicating it is still working on finding a match.
Also on encounters that already have annotations and matches we are getting error message that says.
"Error. Something went wrong when fetching the inspection image."
Can you provide steps on how to reproduce what you're experiencing?
Remove annotation
Add Annotation
Start New Match
For the other error - on an encounter that has a match hover over the match number and the error message pops up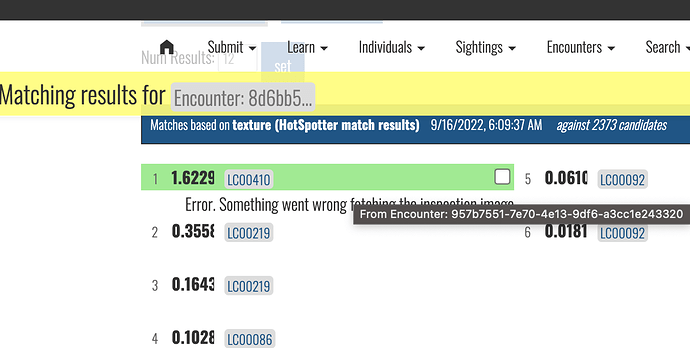 If this is a bulk import report, send the spreadsheet to services@wildme.org with the email subject line matching your bug report