What Wildbook are you working in? ACW
We really love the new status by encounter in bulk imports for the ID queue. But I've just seen a status I don't understand - "suppressed":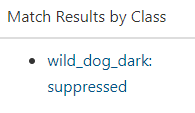 What does it mean? In this instance, the system appears to still be working and hasn't got a set of match results yet, but I can't be sure because "suppressed" could be interpreted to mean "stopped" in some way?
Your help is much appreciated!
cheers
Maureen